KAWAI CN27
The CN27 is built upon over 90 years of piano making expertise and exemplifies the award- winning tradition of excellence that is uniquely Kawai. At the core of the CN27 digital piano is the incredible sound of the renowned Shigeru Kawai SK-EX Concert Grand Piano that is meticulously reproduced with our Progressive Harmonic Imaging technology. With authentic keyboard touch made possible by our Responsive Hammer III keyboard action and a powerful built-in speaker system, the CN27 delivers a satisfying piano experience for any player.
Progressive Harmonic Imaging Sound Technology w/88-Note Piano Sampling
Responsive Hammer III (RHIII) Action with Let-Off and Triple Sensor Detection
Ivory Touch Key Surfaces
Graded Hammers and Counterbalanced Keys
19 Exceptional Instrument Sounds
Bluetooth® MIDI
Dual and Four-Hands Modes
192-Note Polyphony
Built-in Alfred, Czerny, Burgmuller and Beyer Lesson Songs
Grand Feel Pedal System
USB to Host
Premium Rosewood Finish
Sliding Key Cover and Matching Bench
FEATURES
The CN27 offers a highly detailed acoustic portrait, employing Kawai's proprietary Progressive Harmonic Imaging sampling technology to ensure smooth tonal transitions across the keyboard and throughout the entire dynamic range. Learn More »
The new class-leading Responsive Hammer III keyboard action on the CN27 re-creates the exceptional touch of an acoustic grand piano with its realistic movement and rigid "springless" design working together to provide a smooth, natural piano playing experience. A triple-sensor key detection system enhances responsiveness and accuracy. Learn More »
The impressive CN27 features our highly-regarded Ivory Touch key surfaces This finely-textured material gently absorbs fingertip perspiration and oils to avoid slipping and provide greater playing control. Moisture is absorbed without dirt or grease permeating the key surfaces, allowing them to be easily wiped clean with a damp cloth.
The recorder on the CN27 allows up to three songs to be stored in internal memory and played back at the touch of a button. These recordings can serve as convenient self-assessment tools for players of all skill levels.
In addition to standard USB and MIDI ports, the new CN Series also boast integrated Bluetooth MIDI technology, allowing the digital piano to communicate with supported smart devices wirelessly. Learn More »
This exclusive feature lets anyone enjoy the thrill of playing the piano, even if you've never played before. Learn More »
The CN27 comes with the first year's lesson songs from Alfred Publishing's Basic Piano Course 1A and 1B, built in. We've also included the printed music and recordings for time-tested finger exercises such as scales, arpeggios and Hanon songs. Learn More »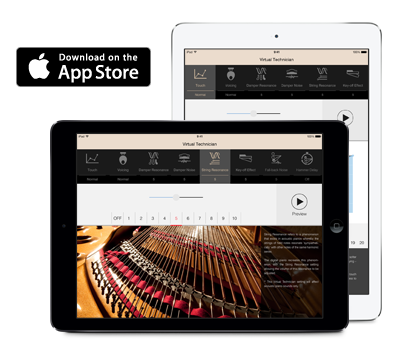 A skilled piano technician can personalize an acoustic piano's sound and touch response. Kawai's exclusive Virtual Technician does the same for the CN27 digital piano.
IThe CN27 features three pedals – soft, sostenuto, and damper (with half-damper capability). The new Grand Feel Pedal System reproduces the individual weighting of each of the three pedals of the Kawai EX concert grand.
As with a grand piano, the viewing angle of the CN27 music rest can be adjusted to suit the performer's playing position or laid flat to provide a level surface for notating scores.